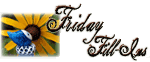 Friday Fill-in #63

1. Some relationships are meant to stand the test of time.
2. Staind is the last concert I saw; it was a good concert, but not the best experience.
3. Spring should be longer; it feels like we've already moved right along to Summer.
4. Oh no! I forgot to do my Friday memes yesterday! ;-)
5. I've recently started burning my Spring candle scents.
6. an Easter lily never fails to make me smile.
7. And as for the weekend, tonight I'm looking forward to Friday night I watched Castaway, tomorrow today my plans include relaxing all day and Sunday, I want to go to church, do my grocery shopping & get back to more relaxing in preparation for Heather's arrival on Tuesday!
Read more...