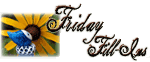 Friday Fill-in #48

1. When my blog is broken, I'm usually full of great blogging ideas, which i can never remember once it's working again.
2. I saw the most amazing _____ this morning! (ok, how sad is it that i can't think of a single thing to put in here!)
3. National Treasure: Book of Secrets is the new movie I'm most looking forward to seeing. (i know, i know. but the first one fascinated me, watching how they wove all the pieces of the story together, and i want to see if they can do it again.)
4. Work: Necessary and occasionally frustrating.
5. Of all the new tv shows, I enjoy Samantha Who? the most.
6. If only Brett Favre would not have gotten injured during last night's game, maybe i wouldn't be set up to lose all but one of my fantasy football match ups this week.
7. And as for the weekend, tonight I'm looking forward to catching up on some blogging -- both posting & reading/commenting, tomorrow my plans include a possible trip to WDW to enjoy the Christmas atmosphere and Sunday, I want to watch football, of course!

and last week's, which i missed while on vacation. i'm going to actually fill it in about last week though!
Friday Fill-in #47

1. I enjoy spending time with the people i care about more than anything else.
2. Blogging satisfies my need for having a mental outlet.
3. When I look at a full moon, I feel peaceful, yet amused, because i remember the time Remy & Don were talking about the moon during a Sox game, and Don was convinced that the direction the moon took across the sky had something to do with which way the wind was blowing.
4. If I want a snack, I usually reach for a bowl of ice cream.
5. The most recent movie I saw, Rear Window, made me feel like i should always keep my blinds shut!
6. If only i knew what was wrong with my computer... (turns out, it was... nothing? i don't know. i am still confused, but grateful.)
7. And as for the weekend, [last Friday i was] looking forward to spending some time with Nichole & Daniel, [Saturday] my plans [included] going out to dinner for Nichole's birthday and Sunday, I [wanted] to just feel better -- i felt very uncomfortable & icky. =/
Read more...