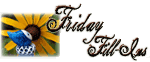 Friday Fill-in #119

1. Anonymous...what a lame way to make a nasty remark that you don't have the nerve to sign your name to.

2. the Easter lily is a very happy-looking flower.

3. Let me embrace thee, sour adversity, and kill you with kindness.

4. i cannot choose between orange blossoms and the start of baseball when when i am asked what I look forward to most about Spring.

5. Who needs therapy when there is blogging!

6. Reese's Peanut Butter Eggs MUST go into the Easter Basket!

7. And as for the weekend, tonight I'm looking forward to a quiet evening at home after i attend the Good Friday Tenebrae service, tomorrow my plans include getting my grocery shopping done and Sunday, I want to celebrate the joy of Easter!